"Due to my shortcomings in timing and planning issues that I have been doing since yesterday, I will soon be punished with falaka. In fact, I will be punished to these unnecessary reasons instead of being educated to become a good slave with falaka. The most important reason for deserving this falaka punishment is that I have neglected the feet of my Master. I forgot about the warning again. I made a mistake, I forgot to lick my Master's feet. I hope he hurts me a lot. I hope my Master will punish my feet in the harshest way so I will take my lesson. Falaka has always been good for me. I am sure that it will be very good for me again today."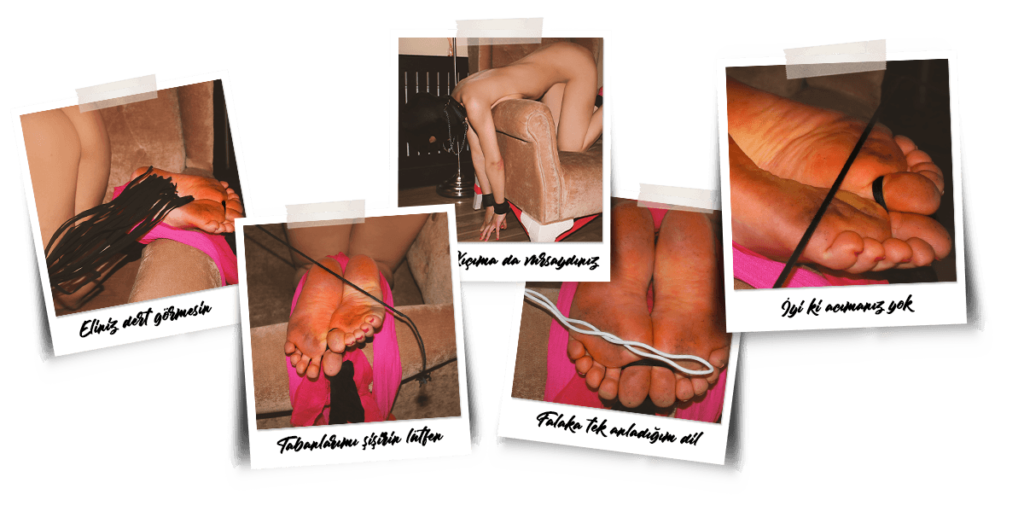 When she thought she was being punished enough, the pain started. She was punished mercilessly with the violent blows of the cable. There was still no mercy, even at the end of her power. She finally had to learn from her mistakes. The riding crop continued with relentless hardness. The soles of her feet were swollen and flushed. She only felt the extreme pain that burned the lesson into her soul.
---
Video Format: WMV – Length: 26 MIN – Size: 1920×1080 Full HD
---
---
After the desaster in 'Falaka Cane – I give up' slave Elif is ready to be punished for it. She has to pay for it. The bill increases because she has to pay additional beatings for each Turkish lira from the last purchase. And this is again a pure falaka caning. But this time she knows how many times her naked soles will be beaten. 450 times. But you can imagine that MasterDaPain is counting in another way. So she receives much more falaka. And it is really painful for her. In hogtied position with a mouth gag she has no chance to stop the caning, to take away her feet or to pray for mercy. When her soles burn like hell and the pain become horrible she gets into another dimension. She reaches her own subspace where the pain of falaka makes a sense and she gets another unknown power to take this extreme falaka punishment. After this falaka her desaster is forgotten.
---
Video Format: WMV – Length: 54 MIN – Size: 1920×1080 Full HD
---
---
It is difficult for Elif to beg for mercy. She hasn't taken several opportunities to improve it. That is why she is severely punished this day. She will be punished until she begs for mercy better than any other slave. Her stamina is weakened, her body is sensitive to pain and everything hurts. The whole falaka punishment is made by cane. So she reaches her limits and is about to give up.
---
Video Format: WMV – Length: 21 MIN – Size: 1920×1080 Full HD
---
---
It's the first roleplay for slave Elif. But she doesn't know that this will be a real BDSM lesson. She is dressed as an Japanese student. MasterDaPain begins with the first lesson. Elif learns that her feet must be naked if she kisses the feet of another woman. She didn't do that in her blog post 'I kissed the soles of a woman'. MasterDaPain is teaching with discipline and punishment. He believes, pain is the only punishment which teaches best. Elif receives falaka. Her teacher MasterDaPain punishes her merciless with the whip, cane and riding crop until she understands the lesson. She receives extra beats whenever she answers incorrectly, and she gets so many questions. By the way she becomes better and better in begging for mercy. The whole lesson she must take the anal plug in her ass. The second lesson is about wag tailing. Because she can't wag tail good enough, she gets a tail instead of the anal plug. And what could be the best punishment for bad wag tailing? Yes, spanking with the cane. She will be punished until she has learned her lesson.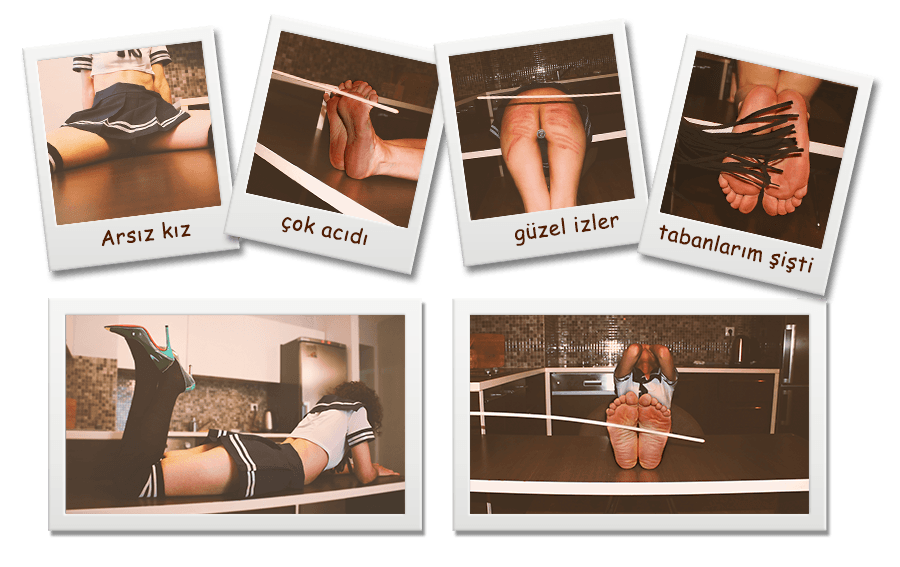 ---
Video Format: WMV – Length: 60 MIN – Size: 1920×1080 Full HD
---
---
Have you ever punished your slave while she does her bitch job? slave Elif has done many times a blowjob and swallowed the sperm of her Master. But she hasn't done it together with falaka until now. But now she receives falaka on her naked soles while is doing a good blowjob. But it is difficult for her to do it together with pain. It's hard for her sucking and feeling the pain of the belt on her soles. But she gives her best because she knows it will be extreme painful if she fails.
---
Video Format: MP4 – Length: 8 MIN – Size: 1920×1080 Full HD
---
---