We're sure you don't know this girl who shows her dirty foot. This is Miss Rage. Do you see the dirt on her sole?
Her other foot is also dirty.

What would you do if this girl was your slave? Wouldn't you punish her feet with bastinado
Continue reading →

Do you remember the movie "Lexa's First Steps"? We made a video of the obliged worship with bastinado part for our partner website
www.feetloves.com
with a new post production.
Lexa is a lazy slave and she makes too much mistakes. Sallenaz is her Mistress and she educates her doing a good foot worship. Lexa has to lick the soles and to suck the toes of her Mistress while she receives a bastinado punishment. Sallenaz is whipping her naked soles as painful and powerful as she can. It's a long and very painful kind of punishment and education for Lexa. She does her best foot worshipping she has ever made but her Mistress is too angry to forgive the mistakes. So the foot punishment becomes a 30 minutes long foot torture. Begging for mercy is useless.
You can buy the video from feetloves.com
video shop
and the pictures from
image shop
or download it with the whole gallery in our
Member Area
.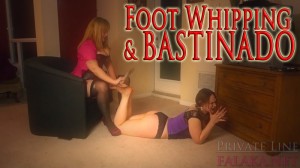 Ekim Vog Kicher asked us if we would like to add him into our Private Line project. He sent us his video and we were delighted with it. It is a fabulous amateur bastinado video.
 
slave Cerena is watching TV although it is forbidden by her Mistress. Mistress LastLilShedevil catches and punishes her. She is giving bastinado to Cerena. It is Cerena's first bastinado punishment. It is absolutely new for her receiving foot whippings on her naked foot soles and it's too painful. Her Mistress tries out punishing with different paddles and whips until she knows which of them tortures more. Cerena fights with the pain but she has no chance.
This is her first bastinado but not the last one. Nasty slaves need many times of foot torture to become a good slave :-)
 
You can buy the video from our shop or download it from our Member Area.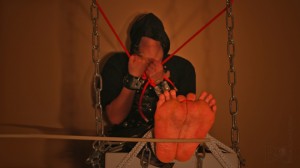 We have renewed our wallpaper area. We added a first collection of 12 high class foot torture wallpaper pictures in full HD format 1080p (size 1920×1080 px). We choose mostly pictures you know like video covers, preview pictures and art works. But we made a complete new design work on every picture. We worked on art design, colours, new compositions and the quality. You have never seen them in same beauty, sizes and quality before.

And we added 3 new pictures. 2 of them are absolutely s/w paint works based on our bastinado pictures. These are the first falaka paint pictures with this technique world wide. The 3rd picture is "Hide Behind Grid Wire" with Sallenaz. This is an absolutely new picture with her showing her tortured foot soles after bastinado behind a grid wire.

This first HD falaka wallpaper collection is dedicated to Sallenaz. You can see every preview picture in original wallpaper quality in our wallpaper area and you can buy them without the preview text from our Image Shop.

This falaka video is a new project. We made the first bastinado documentary with a female model who is not masochistic, is not a BDSM slave and has a dominant character which is fighting against the pain.
I asked Marika if she would make a bastinado shooting. She didn't know anything about bastinado or foot torture. I told her I want to make a kind of falaka documentary and explained everything about it. She agreed under the conditions that
we stop if she reaches her limits,
her girl friend have to be with her,
I have to deal with her aggression
and she won't accept any BDSM role or session.
She was the right model for this documentary.
We made the documentary in a hotel in Hamburg across from the train station. We agreed we would do it without any cuts. From the beginning we spoke about everything. I asked her about her feelings. She screamed. I teased her. I used whip and belt and she hated both because she hats pain. But the belt was better. It didn't sting like the whip. Marika had a concept 'If you don't accept pain voluntarily, it will dominate you involuntarily". Her fight against the foot pain made her angry. Her girl friend Tina was perplex. She couldn't understand why Marika accepted the foot torture voluntarily. Marika screamed sometimes so loud that the other guests of the hotel knocked at the wall. I was surprised about Marika'a power and condition. She really received many many hard beatings. She didn't beg for mercy any time. And don't forget it was her first bastinado.
Would you accept pain, physical or emotional?
Marika accepted both. Do you think pain is the way to recieve peaceful happiness? I don't know but Marika promised me after the interview that she would like to do it again. Also with a cane.
You can buy the video from our shop (also witout subtitle) or download it with the whole gallery in our Member Area.