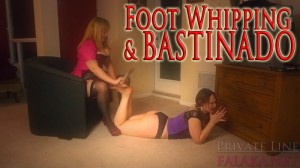 Ekim Vog Kicher asked us if we would like to add him into our Private Line project. He sent us his video and we were delighted with it. It is a fabulous amateur bastinado video.
 
slave Cerena is watching TV although it is forbidden by her Mistress. Mistress LastLilShedevil catches and punishes her. She is giving bastinado to Cerena. It is Cerena's first bastinado punishment. It is absolutely new for her receiving foot whippings on her naked foot soles and it's too painful. Her Mistress tries out punishing with different paddles and whips until she knows which of them tortures more. Cerena fights with the pain but she has no chance.
This is her first bastinado but not the last one. Nasty slaves need many times of foot torture to become a good slave :-)
 
You can buy the video from our shop or download it from our Member Area.