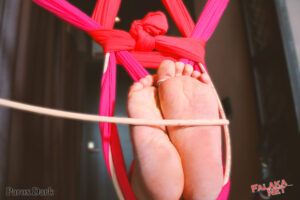 Rebirth of Pain Passion 1 – "Cold disturbs your control" is the first video of our series based on failure and resurrection.
Actually, slave Elif expects a routine punishment for being unavailable. However, she repeated that mistake. Therefore, her Master encumbers the falaka with cold. So she is tied up in front of the open windoww. Cold increases the pain sensation on the soles of the feet and the body is weakened and one reacts uncontrollably to the pain. She's doomed, she just doesn't know it yet.
So she gives uo but giving up is not an option. However, everyone has their limits. The pain threshold was reached because other factors intensified and even alienated it. Therefore, the passion for pain must be reborn. Harder. Ruthless. Merciless. So she can do it next time. But now she needs the traditional way of falaka. But MasterDaPain punishs her with a hard hand because she must pay for her weakness.
It is an extreme payback for her mistakes.