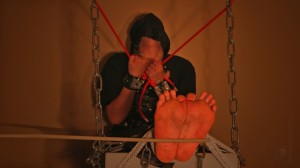 We have renewed our wallpaper area. We added a first collection of 12 high class foot torture wallpaper pictures in full HD format 1080p (size 1920×1080 px). We choose mostly pictures you know like video covers, preview pictures and art works. But we made a complete new design work on every picture. We worked on art design, colours, new compositions and the quality. You have never seen them in same beauty, sizes and quality before.

And we added 3 new pictures. 2 of them are absolutely s/w paint works based on our bastinado pictures. These are the first falaka paint pictures with this technique world wide. The 3rd picture is "Hide Behind Grid Wire" with Sallenaz. This is an absolutely new picture with her showing her tortured foot soles after bastinado behind a grid wire.

This first HD falaka wallpaper collection is dedicated to Sallenaz. You can see every preview picture in original wallpaper quality in our wallpaper area and you can buy them without the preview text from our Image Shop.