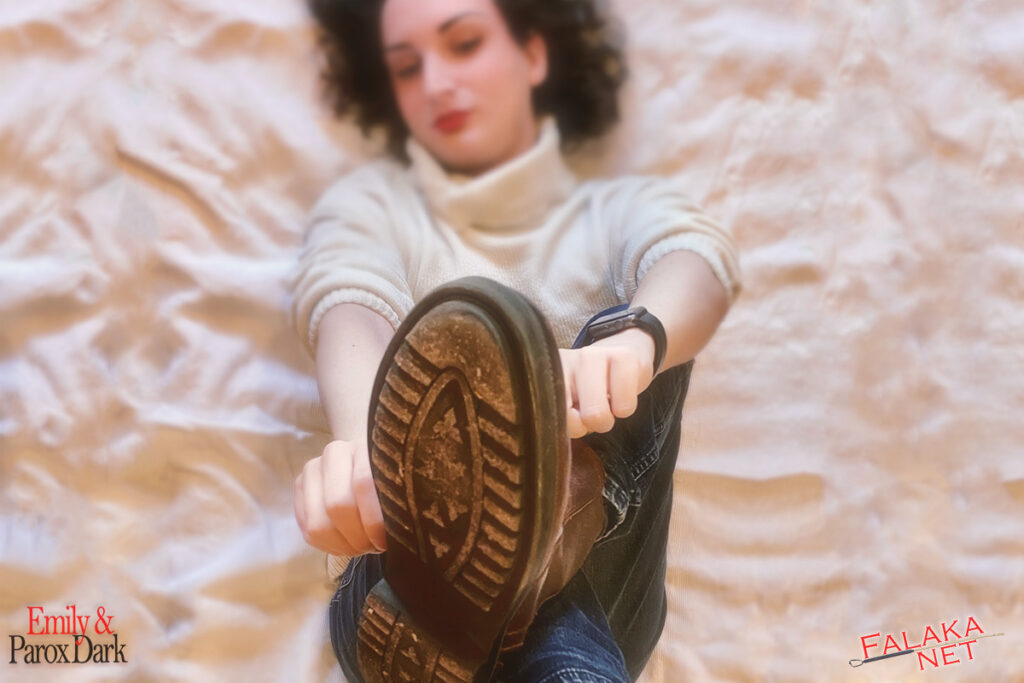 Falaka Impact 6 is evolving and everyone can follow this development. For the first time, before a Falak Impact episode, we'll let you know who it's about. You can also share your opinion here and now. What are your expectations? What would have to happen? How does she deserve a hard or soft falaka? What would you like to see? What tips do you have for Emily before she has her first Falaka Impact?
But first let me mention, it won't be her first falaka. It will be her first falaka with MasterDaPain.
Emily's last words…
Failure.
For years, my life has been defined by failure. Every time I've tried so succeed, I've failed… almost as if failure was my destiny. But I am not going to try to deceive anyone, not even myself anymore: it's all my fault. There's nothing else to put blame on, but me. Sure, there have been many third party factors that have made things more difficult for me. Surely, I haven't had it easy. But that doesn't matter: lots of people have had it worse, and yet, have fought hard to succeed in life…
…and then there's me. Whenever things get hard, I've always commited the same mistake: instead of fighting to overcome the adversities, I've given up. "It's too hard. I can't do it. It's too much for me. It's impossible"… only now can I see, that failure was my choice. Maybe it was just easier for me to think that I was incapable of facing adversity rather than actually fighting for success, regardless, now all I can do is look back in regret and feel melancholy. "I wish I had tone it differently". "I wish I had fought harder".
My Desire for Pain
It all boils down to my lack of self-confidence. Most of the issues in my life, most of the mistakes I've committed, most of the chances I've missed… have been because of my lack of self-confidence. My inability to believe in myself and my capabilities. Even now, even being fully aware of the root of the issue, I still can't do much about it. I try to do better, but, ultimately, I still very often fall into procastination and sadness, rather than willing to do what needs to be done.
And for that, I hate myself. Because even though I know why I'm a failure, I still fail to fix it.
This has always played a major role in my desire for pain. I feel like I deserve to be punished for my mistakes, and most importantly, for the common denominator, the main cause of all of these: my lack of self-confidence, and my inability to correct it. I feel like I'm useless, because even though I know where the problem is, I still don't get to solve it. Therefore, it's not just a fault I have; it's all of my persona. This is me: a stupid girl who can't seem to get anything right.
I Deserve the Worst Pain my Brain can Process before Collapsing
Bastinado has been one of my biggest passions ever since I was a child. When I turned 18, I decided to live out my passion and try it out; ever since, I've had a handful of sessions… but, so far, it's never got to the degrees I've always wished.
I just carry too much hatred for myself. So far, it has never felt enough for me. I feel like I don't deserve just any pain, no; I feel like I deserve the worst pain my brain can process before collapsing. I deserve my soul to be shattered through desperation and distress.
I've known MasterDaPain ever since my passion for bastinado was triggered. Ever since, I've always fantasized with sessions like those he is able to deliver.
Once I've Experienced the Excruciating Pain of his Bastinado
I believe bastinado can be a very practical way to teach me a real lesson. Both in bastinado and in life, I always reach a point where I feel like "it's too hard. I can't do it. It's too much for me." But I know these feelings are nothing, but subjectivities born out of my momentary weakness… and yet, this weakness has defined most of my life.
And, for that, I deserve the worst pain in my life. Perhaps, once, through bastinado, I am pushed beyond my limits, when I am taken to points, I hadn't thought myself to be able to reach, I will finally see that I can do it on my life too.
Perhaps, once I've experienced the excruciating pain of his bastinado, I will finally feel like I've paid for my mistakes, like I've endured the suffering I deserve.
Emily
Lust for More
I promise you a painful start, which will only find its climax later. Falaka Impact 6 is a start for you to experience new horizons of pain and the revelation you will receive when you earn it.
May the first step shake you with pain, your soles burn from the blows, your feet won't carry you because of the falaka and you lust for more. If you can then beg for more pain, your path will reveal itself.
MasterDaPain
LET US BEGIN THE PAINFUL JOURNEY