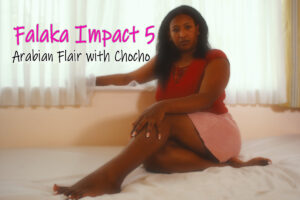 Chocho is a woman of Arabic descent who has never received the falaka before. She knows pain, she knows punishment, she knows BDSM, but she doesn't know the pain of the falaka. However, she knows a lot about it from her background. Therefore she is very afraid of the first contact with Falaka. The first Falaka impact is a big challenge for her, which she courageously accepts despite all her fears.
Arabian Flair with Chocho
She has trouble dealing with the new pain. She can neither classify it, nor does she know how best to endure it. She squirms so much during the falaka that it can only be performed in hogtied bondage. To get to know the pain in different forms, whip, belt and bondage rope are used. However, each one hurts.
MasterDaPain's sadism is so strong that he even uses the pain of the first Falaka in such a way that it drives Chocho insane and in the end even pleases her. She really loves and hates the electric stick.
Chocho goes through an emotional roller coaster ride. She is pushed to the limit with her first falaka and has to continue to endure the pain at her limit.
---
Video Format: MP4 – Length: 37 MIN – Size: 1920×1080 Full HD
---
---